Guitar • Vocal • Bass • Drums • Piano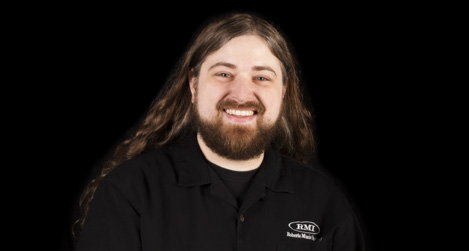 Biography
Brandon Beligni has been a primary faculty member at Roberts Music Institute since 2012.
Brandon was born in Las Vegas, Nevada and grew up in a musical family, which ultimately led to his love and fascination for teaching music.  Brandon grew up behind the scenes of the music industry, spending time in recording studios, backstage at Vegas shows, and years of watching and listening to his mother give voice lessons and coaching to would-be entertainers. At age 10 Brandon began taking piano lessons and quickly rose to receiving superior marks in piano competitions. At 12 he picked up a guitar and found the instrument he loved. He studied classical and jazz guitar at the Las Vegas Academy, a charter high school for Fine Arts. Though he considers himself a guitar player first, he has also studied percussion and voice, and has done both professionally. His eclectic musical tastes have led him to many diverse musical experiences. He has enjoyed singing jazz standards and playing jazz guitar in a variety of jazz bands, he has played drums in a professional country band, and has even played guitar and performed vocals in metal bands and recording projects.
Education
Brandon is proficient in a wide range of musical styles which include, but not limited to, jazz, classical, and metal. Upon discovering a love for teaching and particularly a knack for teaching young children, he began apprenticing under veteran teacher Jay Roberts to perfect his teaching technique. He has learned to implement the same proven methodology that Jay's iconic father, the legendary guitarist Howard Roberts, created many years ago. Currently, he is working towards a degree in music, singing in an 18 voice jazz choir, and playing guitar in several jazz ensembles. Though he loves performing, his passion for teaching has given him the realization that his life work will continue to be focused in music education.
Honeysuckle Rose
Richard Page and Brandon Beligni. 2012.
Nemesis
Richard Page and Brandon Beligni playing their arrangement of Nemesis by Aaron Parks. 2012.
Jamestown Revival Cover
Brandon Beligni – Vocals/Guitar/Bass/Keyboard/Drums
RMI Recording and Mixing Studio
Get Started Today
To help us determine your ideal placement and begin your journey, please click the button below to fill out our free Skill Level Evaluation Form.
RMI Instructors
Our educators are some of the best in the field. Meet the team, learn about their talents, and find your perfect instructor match.
Classes + Curriculum
Our extensive coursework developed by Howard Robert. Available for purchase online, as well as guided instruction sessions.